Can you turn Cheddar Bay biscuit mix into bread?
You jerkoffs took all the flour
Hello, bing bongs!
I write you from the confines of our apartment, where we are holding up and atrophying away from sitting all day. Davida has received her unemployment debit card, but there's been no news regarding my status yet. This sucks balls and ass. I can only imagine how difficult it is for entire families right now.
The upside is, we have Animal Crossing now, for the Nintendo Switch, so that has been a bright spot in an otherwise bogus time. I've been watching Davida catch fish, pick fruit, and bonk people on the head with her butterfly net.
We went out for a brief excursion to the grocery store (we're on our last few rolls of toilet paper) to get supplies. People are still being insane about the toilet paper thing! We ended up empty handed.
Make that bread, and so on and so forth. Link in bio.
Also, it turns out every single one of you guys has transformed into a master baker. Justine (above) made a beautiful loaf of bread; check out her blog, Boney Appetit!
Seriously, what the fuck. As I obsessively scroll through Facebook and Instagram, all I see are loaves of bread. Bread here, bread there. The world is now 100% bread.
If you want to know something dark and secret about I, Dannis Ree, the greatest food writer in all of history, it is buried deep inside the cavernous depths of my ass…
I've never baked a loaf of bread.
My friend Sara Lee does all of that for me.
The flour aisle was as empty as the toilet paper aisle. Except there were lots of boxes of Cheddar Bay Biscuit Mix. You know, the very same biscuits that they sell at the pinnacle of all seafood restaurants, Red Lobster.
And there was plenty of yeast.
Davida picked one of the boxes off the shelf and said, "Can we get an extra one? Because I know you're about to ruin one."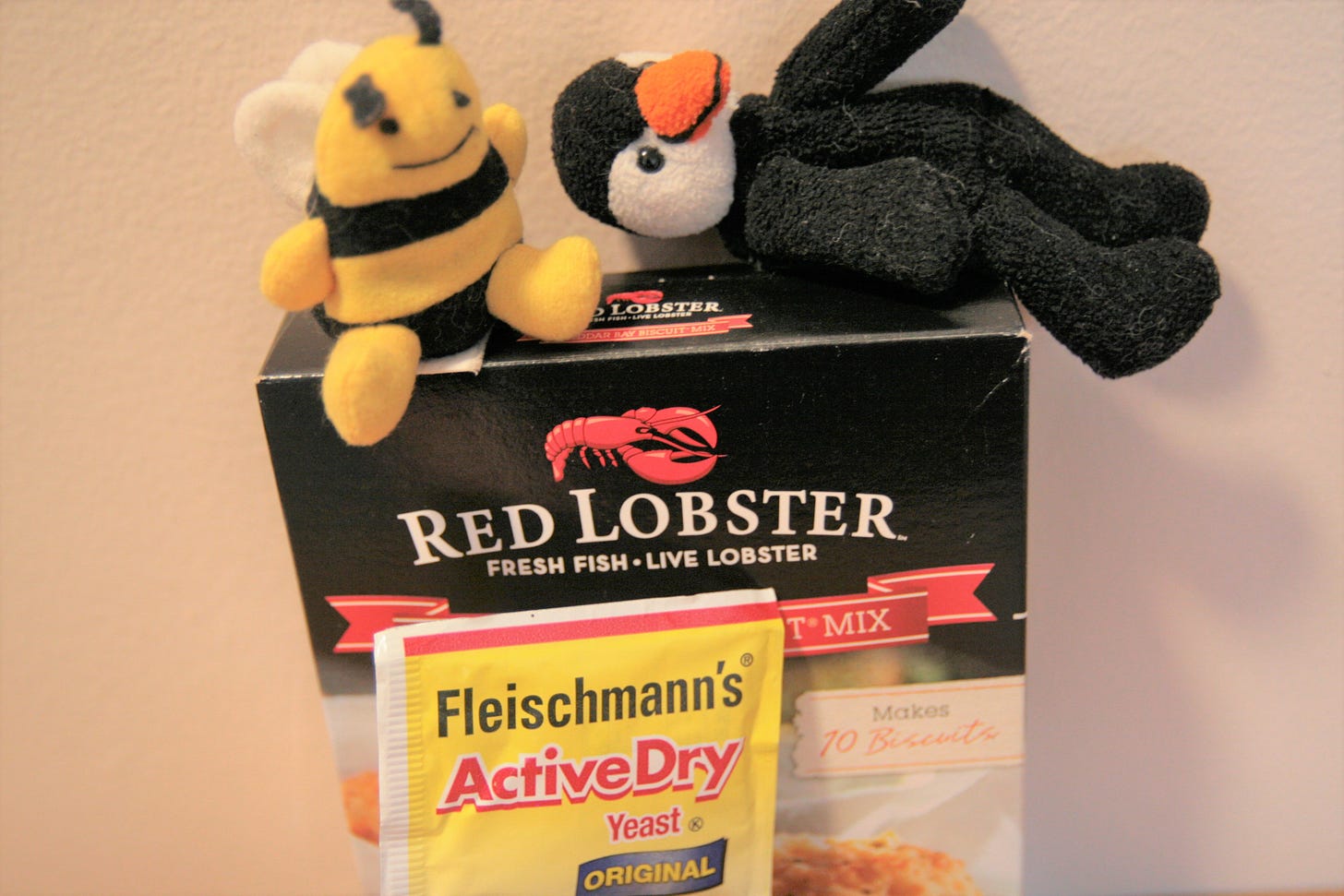 I asked myself, with sheer glee, "Dannis Ree, if you add yeast to a box of Cheddar Bay Biscuit mix, can you turn it into a proper loaf of bread?"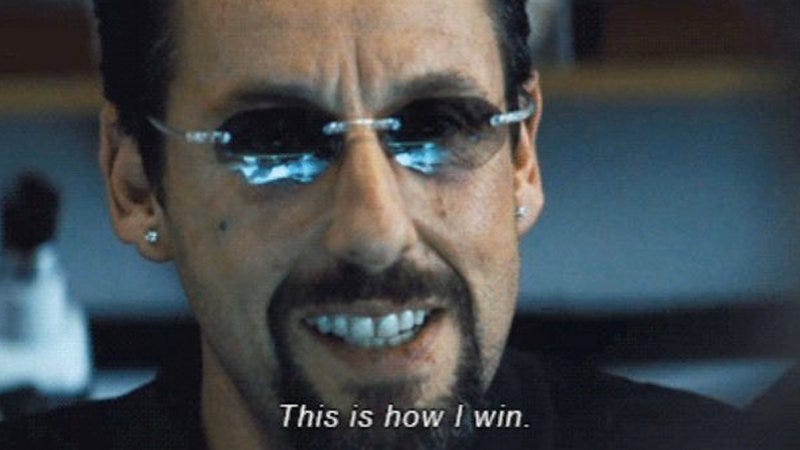 I am a goddamn champion.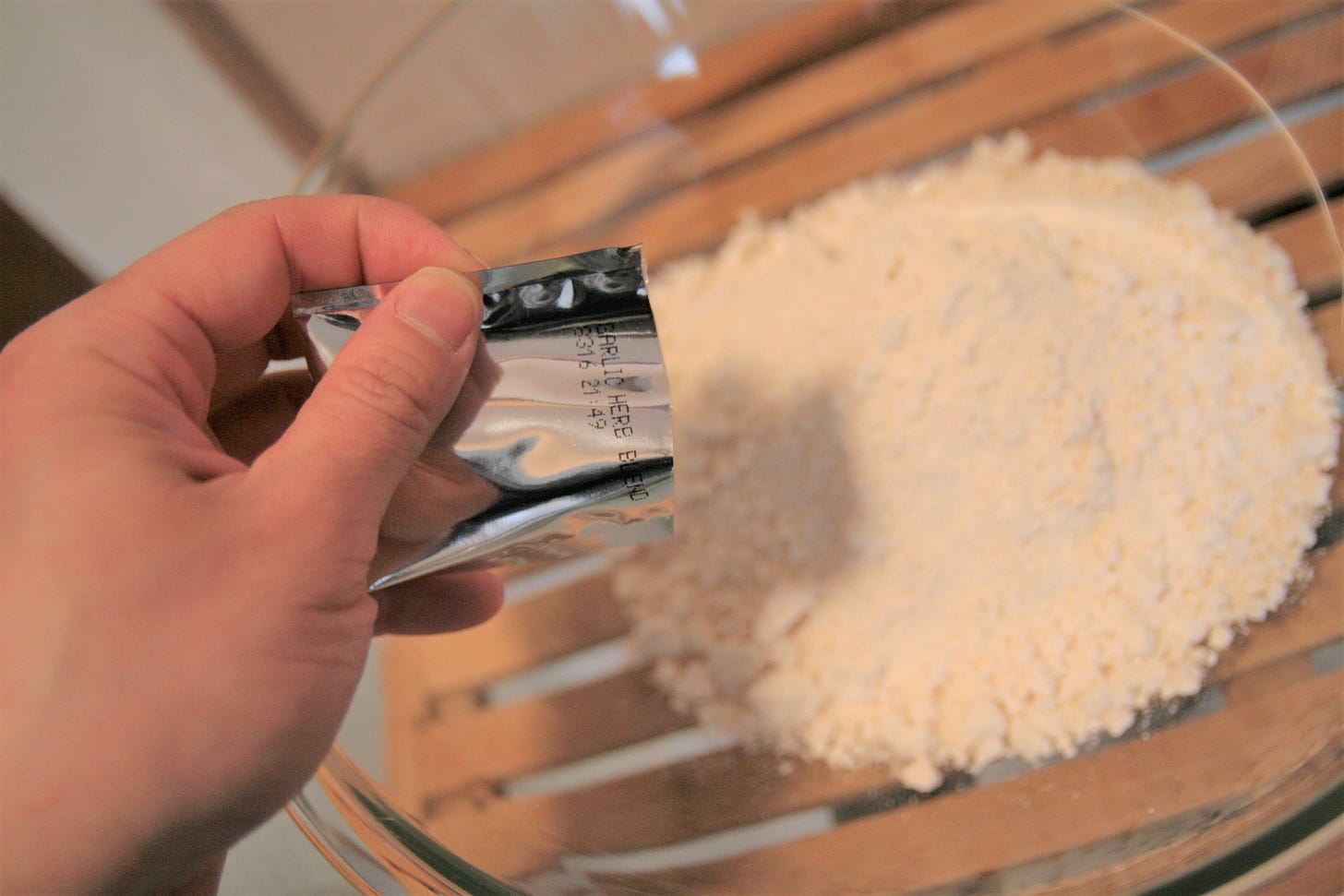 I mixed all the ingredients together into a large mixing bowl.
This herb packet is supposed to be the base of a garlic butter you brush on top of the biscuits, but I decided that I just wanted the bread to be seasoned. Plus, I'm lazy.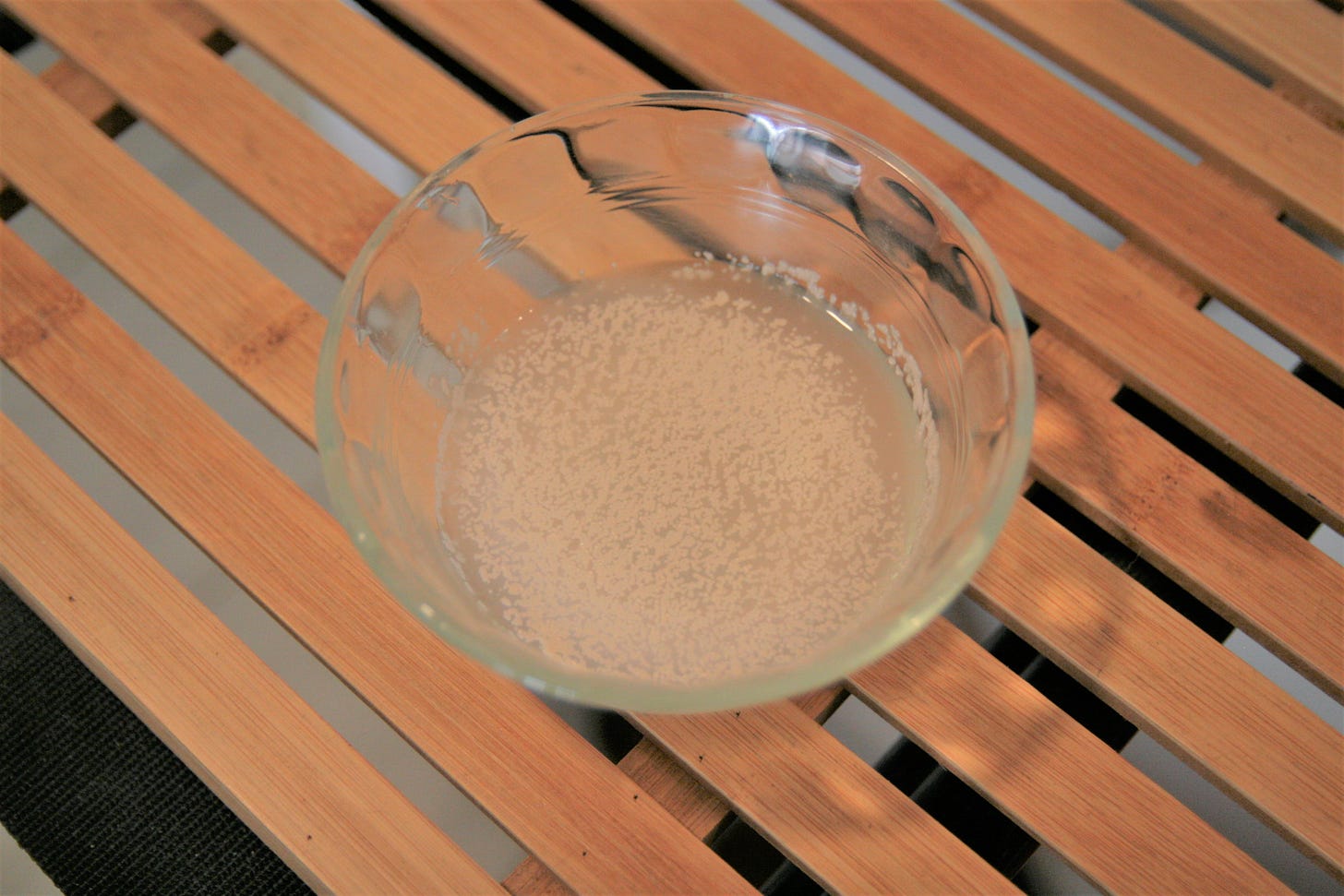 Because I bought active dry yeast and not instant, I needed to wake up these little burping and farting yeast babies by mixing them with warm water and sugar.
Wake up, guys, you have a lot of work to do!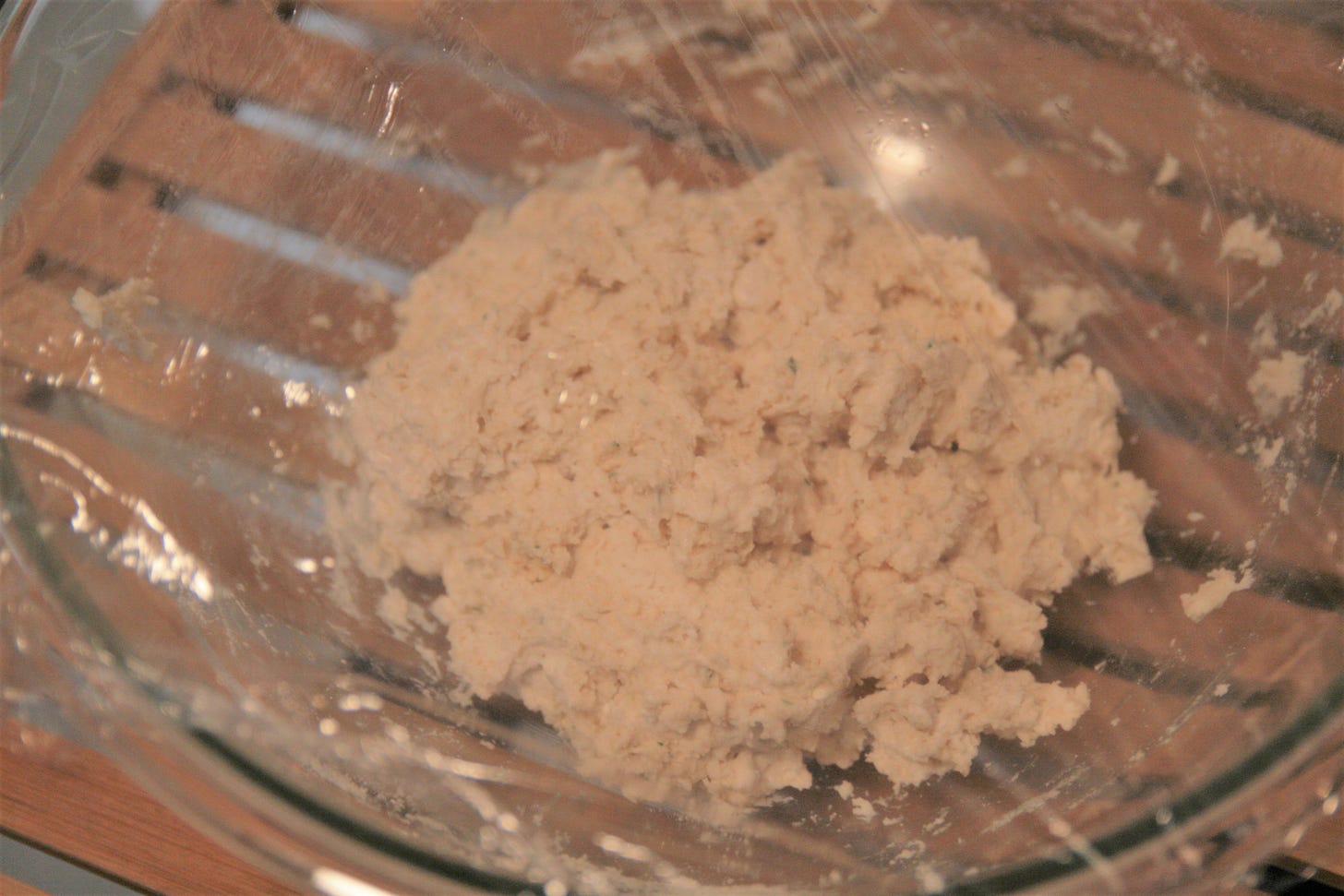 To make things as simple as possible, I decided to go with a no-knead technique.
I mixed in the yeast and eyeballed the water, because I am amazing at everything I do and nothing could go wrong. I am an expert, just like everyone is a coronavirus expert on social media these days. Did you know you could destroy coronavirus if you sprayed it with a mixture of urine and gin and ran over it with a truck?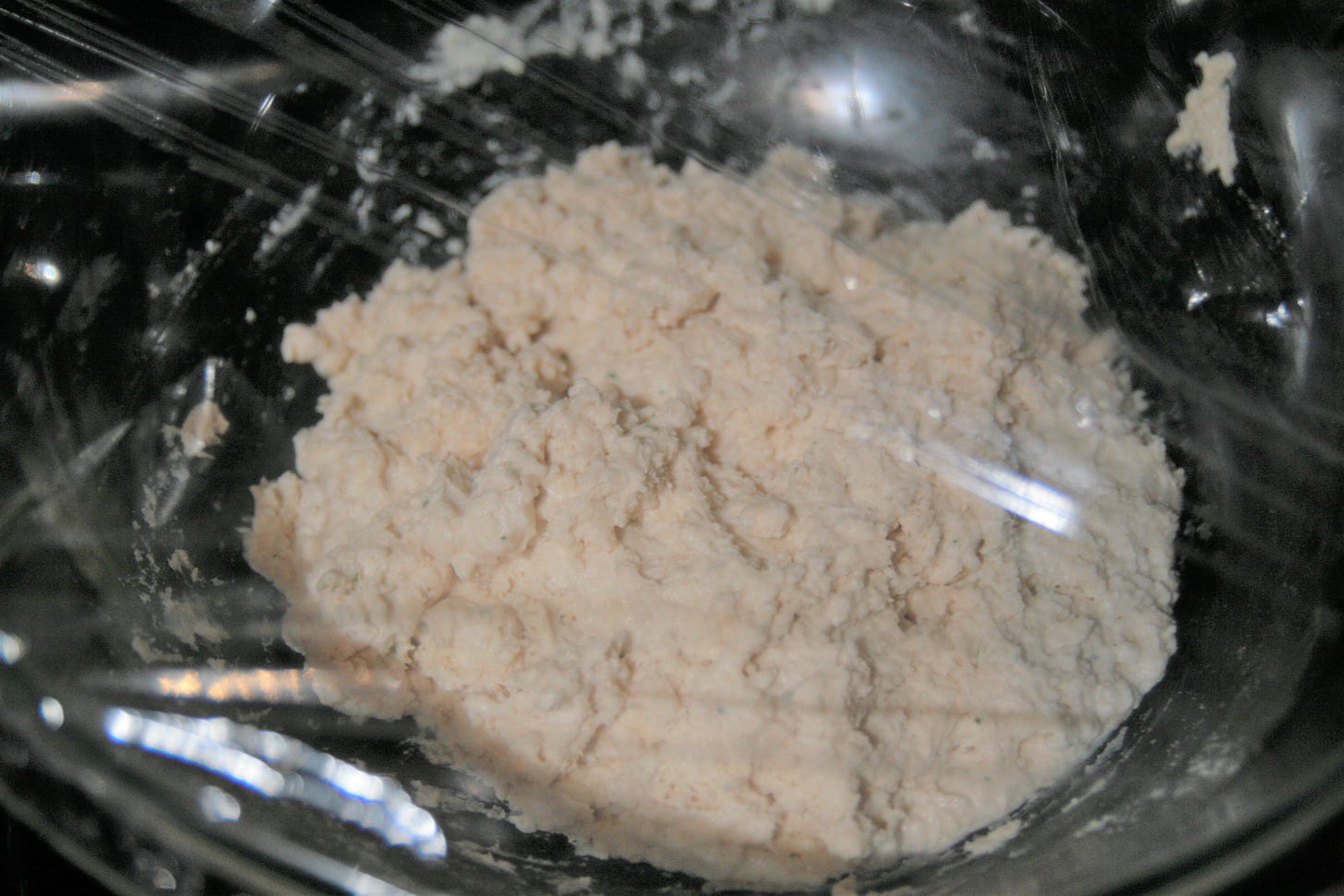 I let the dough sit all day, close to 10 hours.
It looked suspiciously unchanged, but then I lifted up the bowl to check the bottom.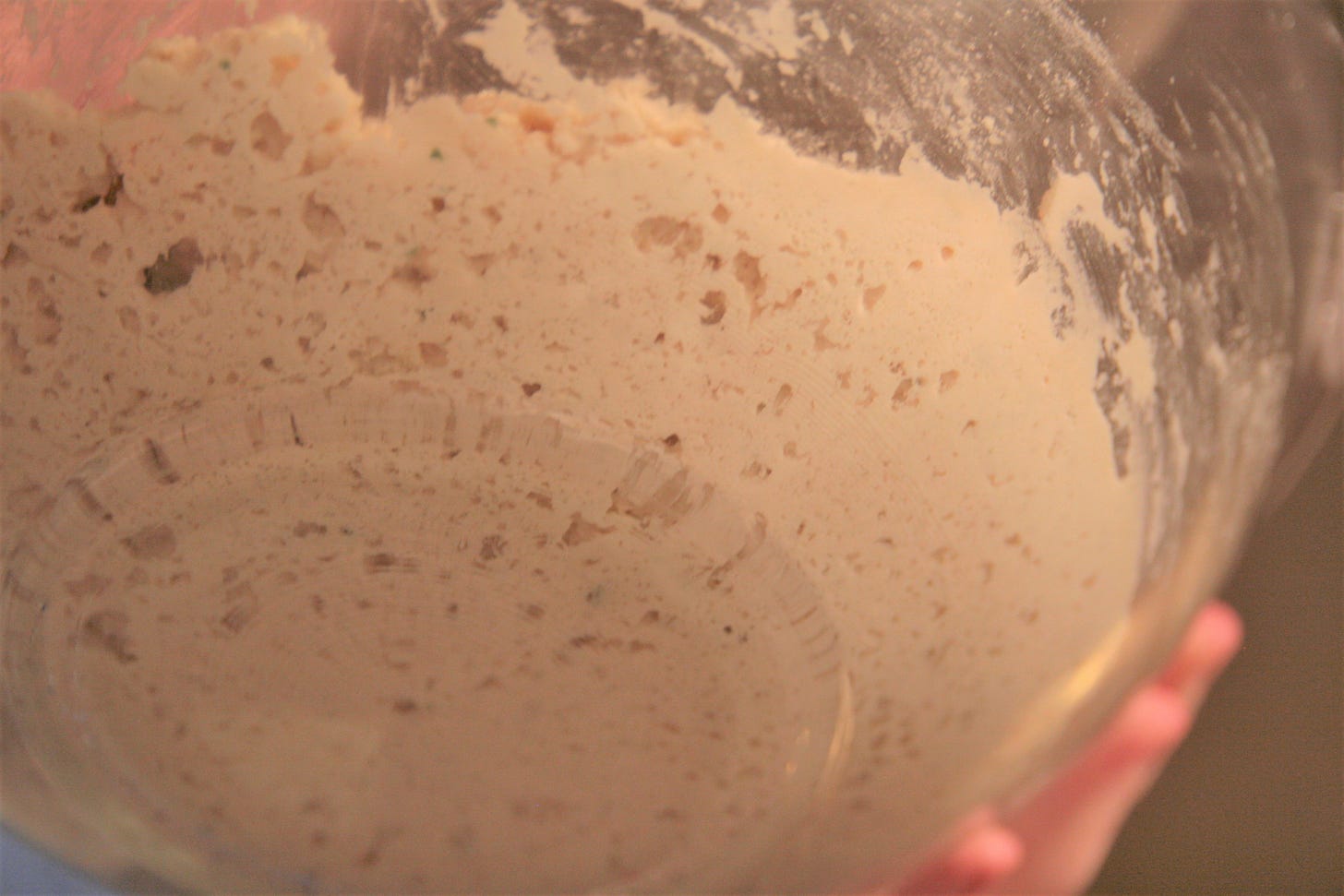 Hooray, bubbles!
I took a whiff to see if I could detect the yeast farts after they digested the sugars from the flour. Success. It smelled like bread dough.
I was tired after staring at the dough for 10 hours straight so I let it sit in the refrigerator overnight to slow down the fermenting process. Then Davida and I watched some Tiger King, the most hilariously insane story I've ever seen. Fuck food writing. Maybe we should start an illegal tiger mill from our tiny ass apartment.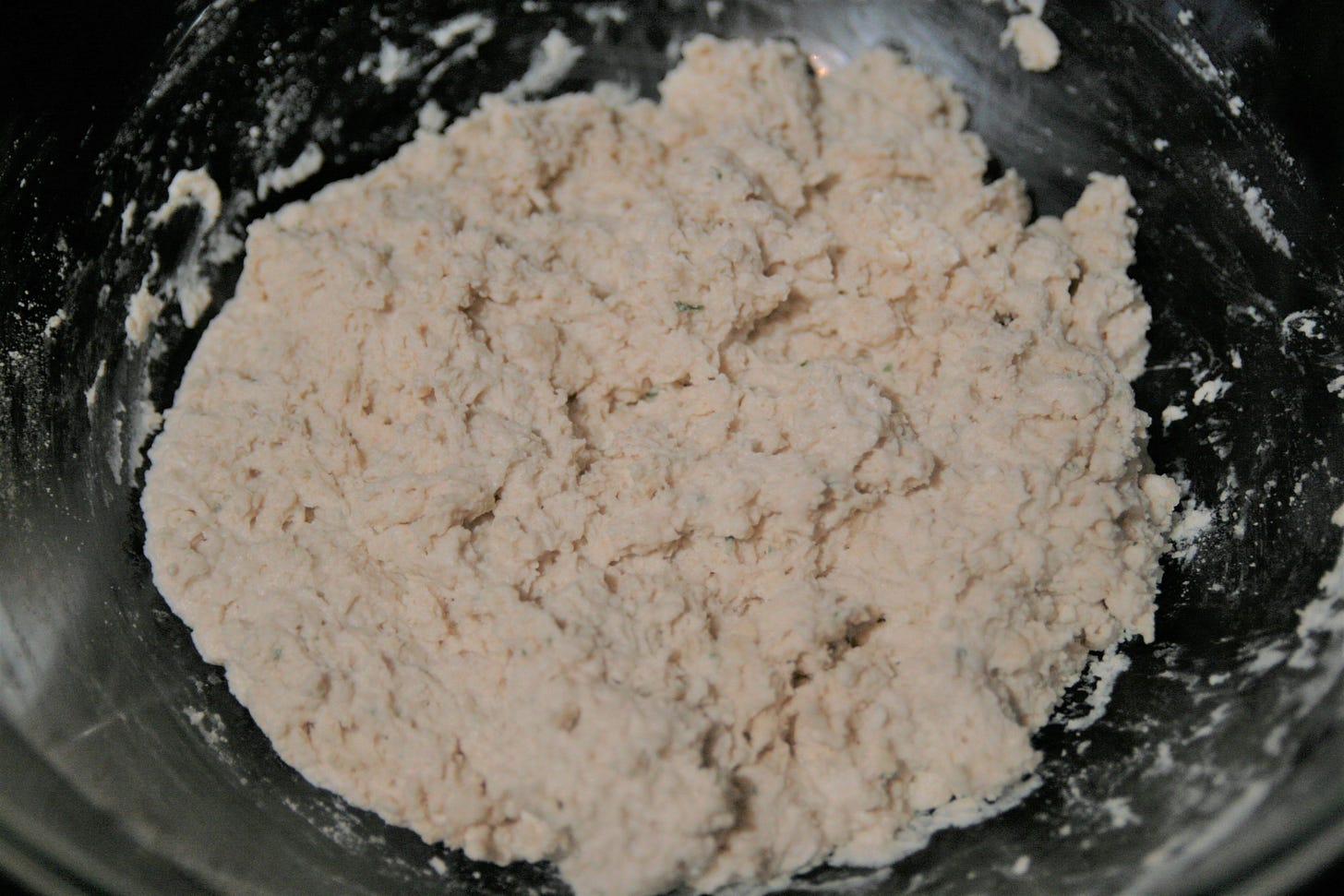 The next afternoon (we've been sleeping until the afternoon, because everything is stupid right now) I pulled the dough out of the fridge.
It didn't particularly rise, per se, but it did expand across the bowl. I'll call it a win.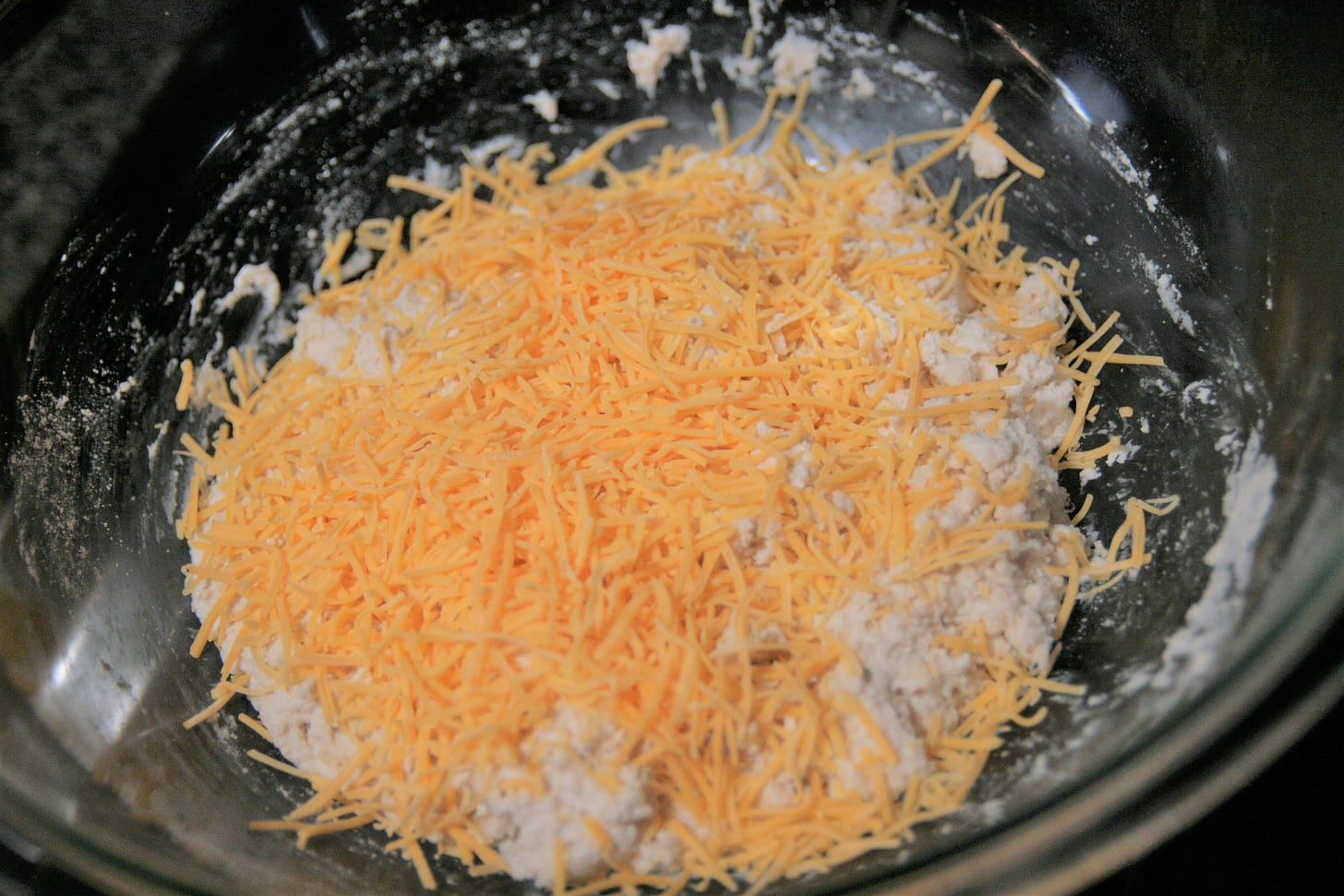 Then I tossed a healthy amount of cheddar into the dough, working it in carefully.
The dough was very sticky and not terribly fluffy. Hmm.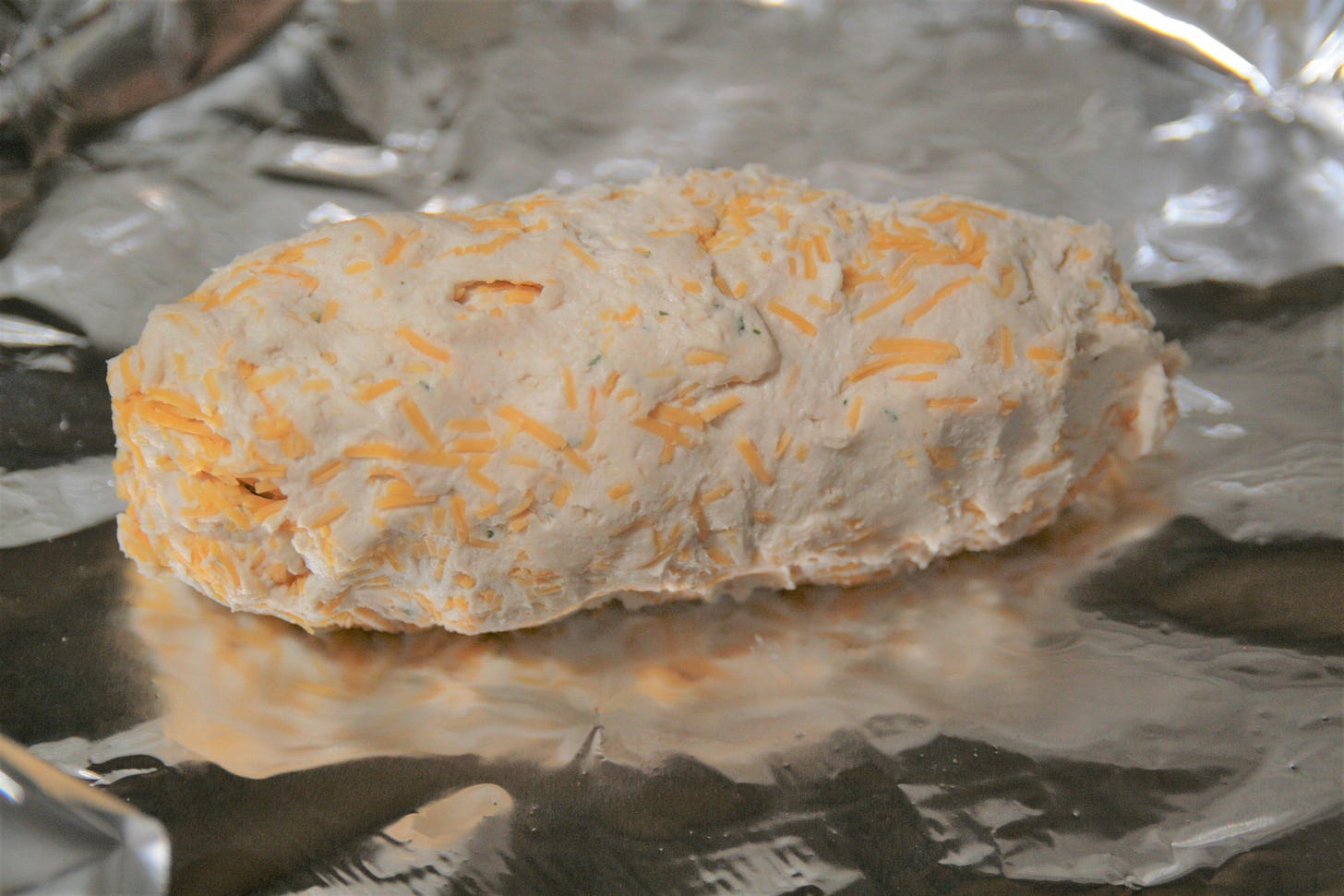 I shaped the loaf into a giant turd.
If you are going to be the best food writer in all of history, it is important to compare food to the substance that came out of your ass that morning.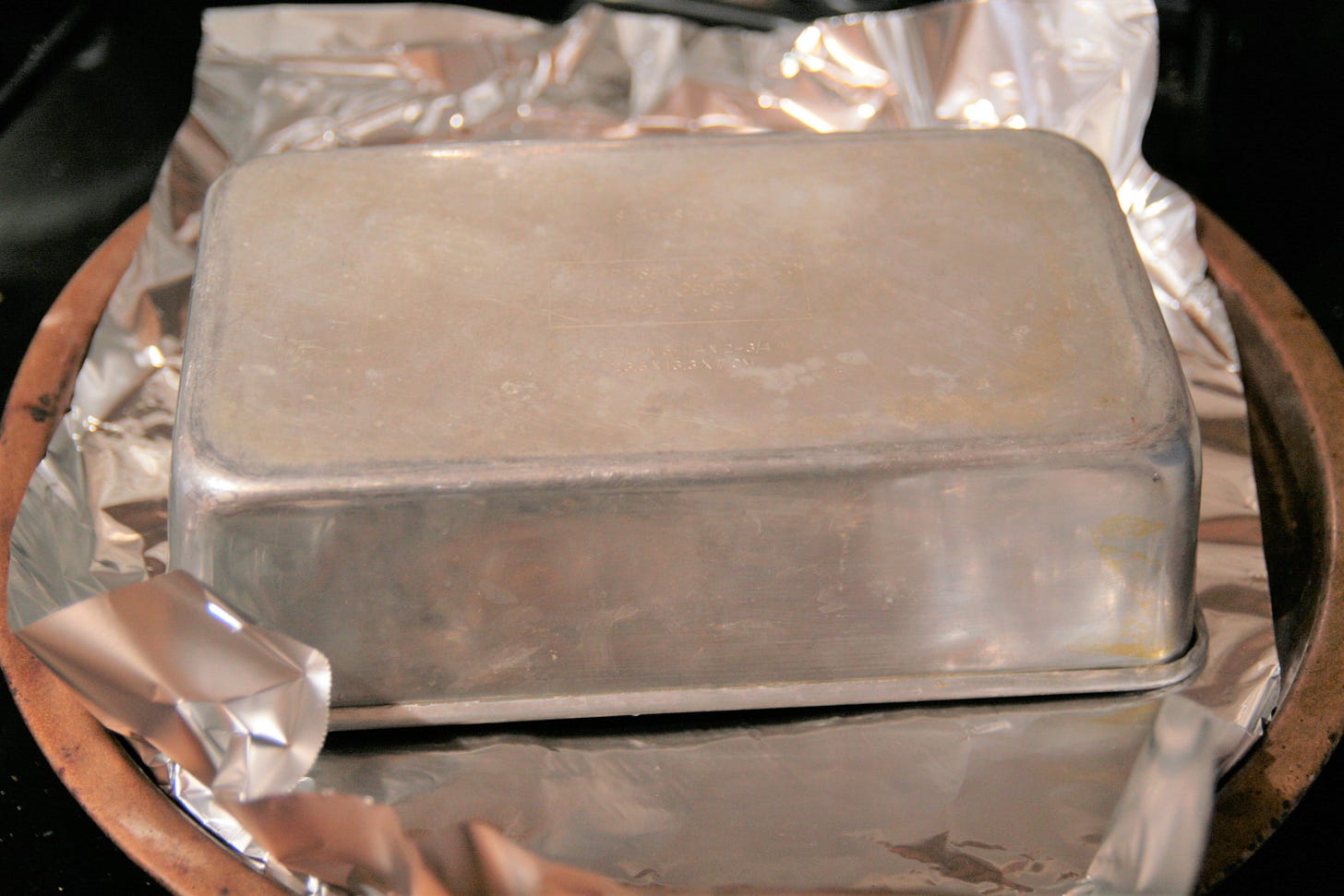 My coworker Travis suggested I bake the loaf under a pan to generate some steam while it baked.
I gave the bread a helmet, cranked the oven up to 450°F, and let it bake for 20 minutes. Every time I use the ° symbol when I'm writing something, I Google "degree symbol," find a result, and copy and paste it into my document, just like I did right now.
°°°°°°
Then I removed the bread helmet, put the helmet on my head, and baked the loaf for another 20 minutes, naked.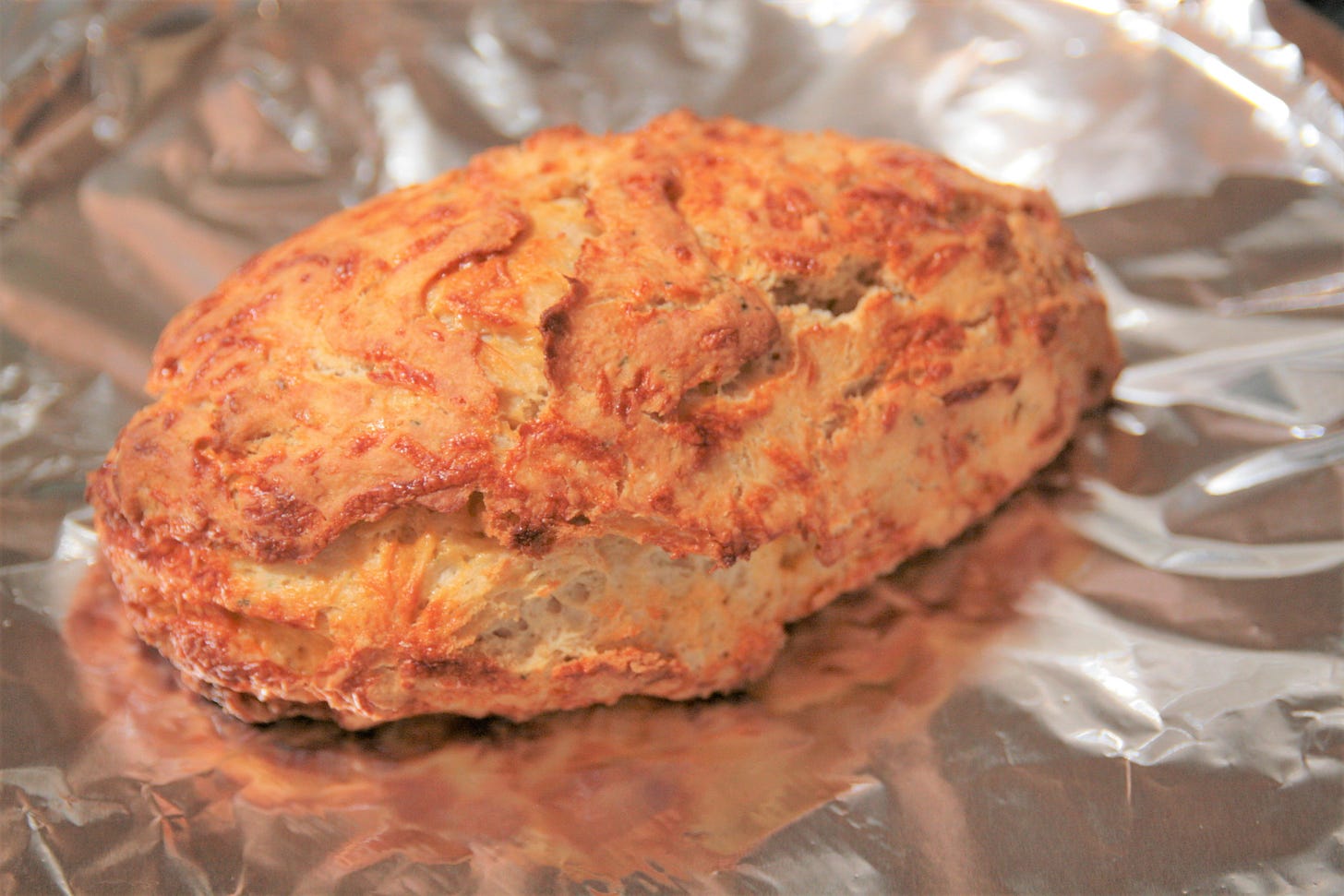 Holy shit!
Once I saw the result I almost shit my pants. I couldn't believe how nice it looked. The apartment smelled like the interior of a Panera Bread, which is the highest compliment you can pay to a bakery.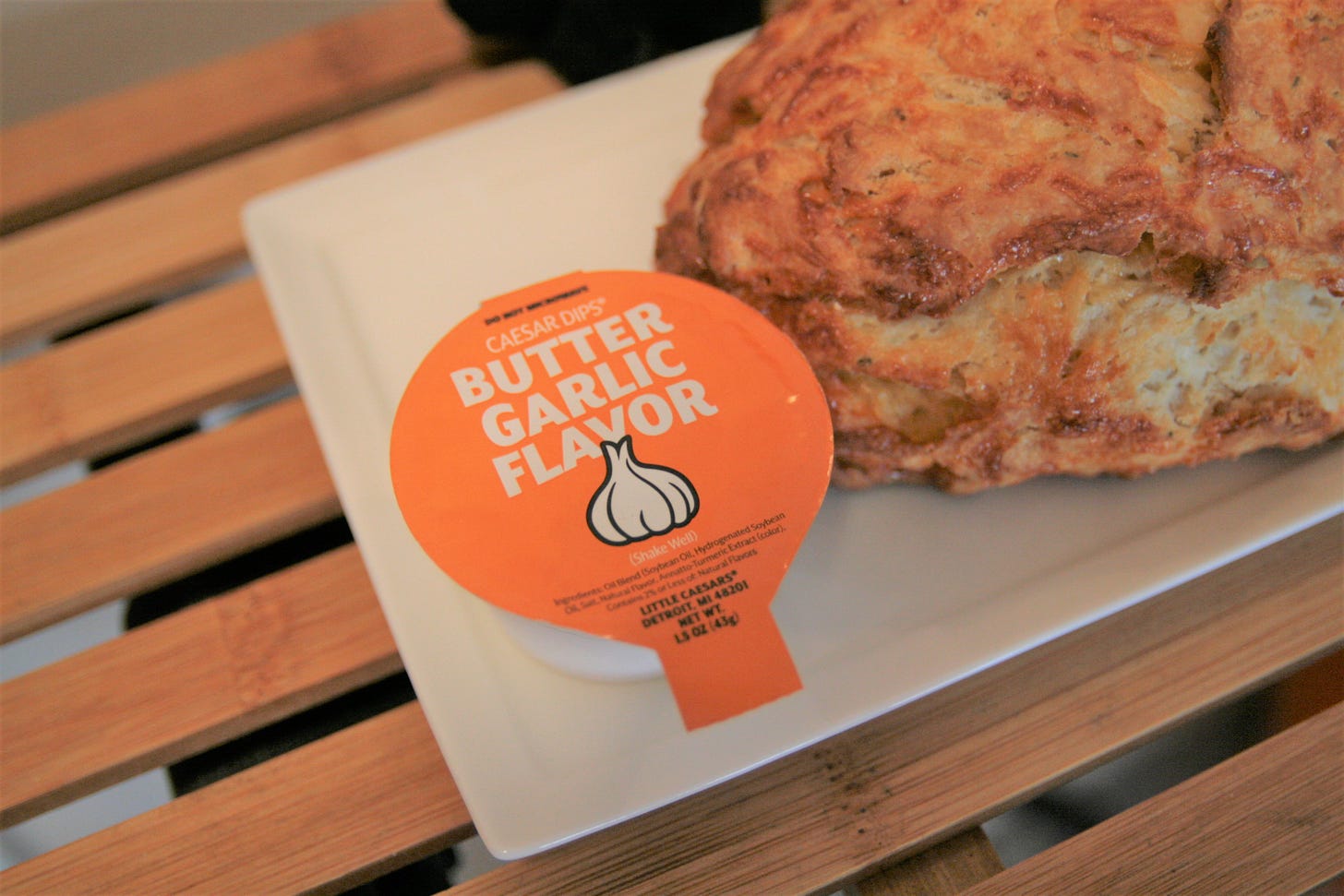 As the perfect compliment to this magnificent product, I pulled out the good stuff, Butter Garlic Flavor dip from Little Caesar's.
This shit is precious. I used to champion Papa John's, but it turns out Papa John is a horrible racist, which means I've been eating racist pizzas for years.
This interview is amazing.
Plus they slowed down his voice so the monster really shone through.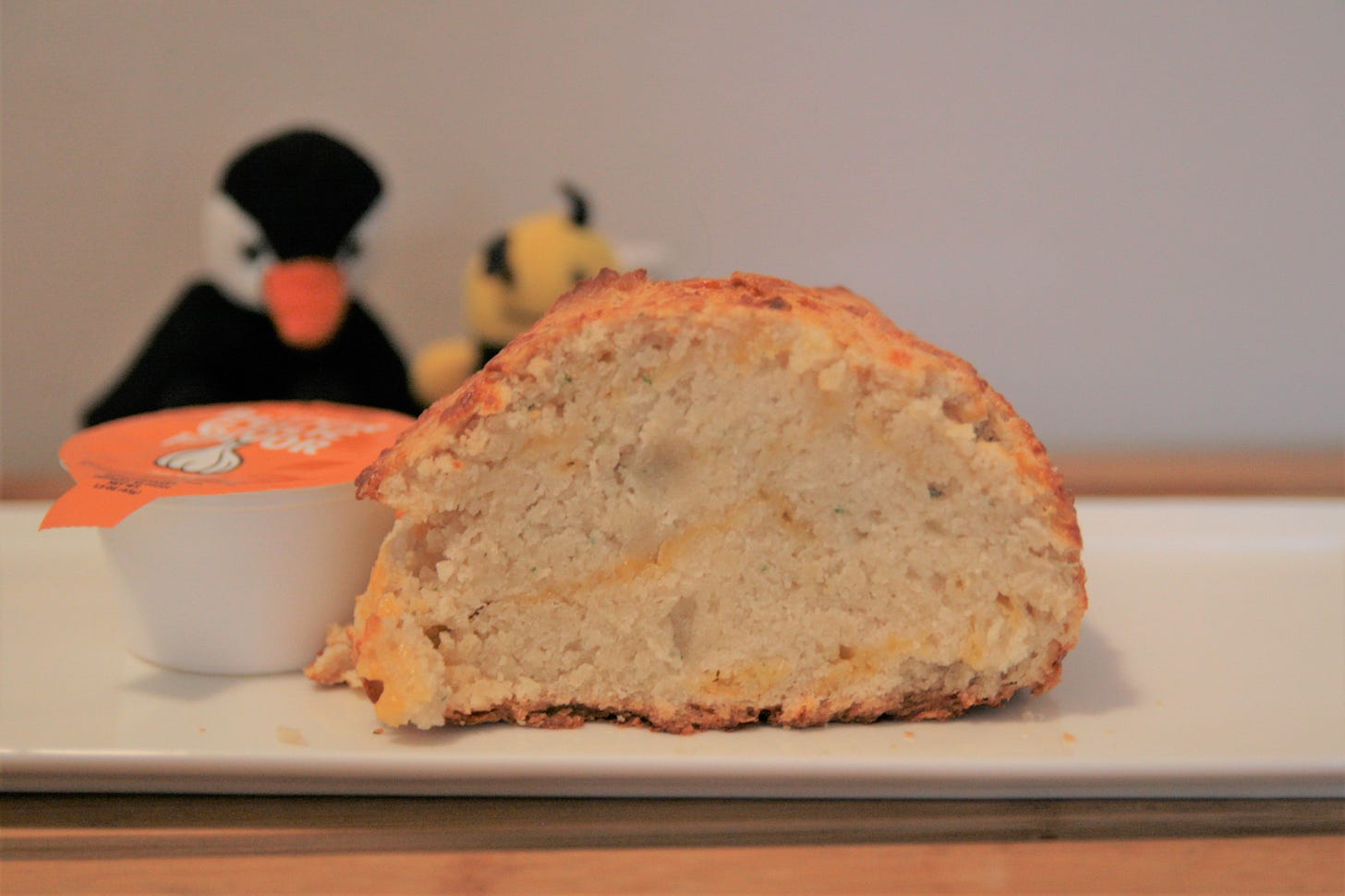 When you are a self-appointed expert on bread, you have to take a look at the texture of it and say, "Wow. Look at the crumb structure on this bread. It looks amazing. Marvelous. Good job, Sara Lee." Then you spend the rest of the day, nodding, while saying, "Crumb."
But in this case…instead of a crumb structure, this loaf was pretty much a solid brick of cooked dough. I'm amazing.
Davida and I took a crumbly chunk off the bread. It tasted, well, just like a Cheddar Bay Biscuit with a subtle yeast flavor underneath. Its texture was less of a fluffy bread, or even a dense sourdough, and more like pound cake. We stood around the stove, munching on it. I dunked a bunch of pieces into the golden nectar of the Garlic Butter Flavor Little Caesar's dip, secretly imagining me slathering it all over my groin.
"Well, that was a nice little fucked up lunch," said Davida, going back to her game of Animal Crossing.
So was this a real loaf of bread? Maybe not. Am I now the greatest baker in all of history?
Yes.
---
Here's business as usual — if you liked this, share it on social media! I'm @fartsandwich.
And yes, please consider a paid subscription. Things are going to be dicey for a while. While you're at it, keep supporting your local restaurant scene if they're still doing takeout or delivery. Every cent keeps your favorite places in business.
Venmo (ugh): @dickholedannis
And lastly, it'd be nice to hear from you, in general, so don't forget to say hi. We're taking this shelter-in-place thing seriously, as should you.
Please be safe. Love you guys.