The story of the loneliest picture on the Internet
Hello, newly-appointed bread baking experts!
I hope you are all sitting tight at home, being bored, and watching a lot of television.
I'm taking it a touch easy this week because my birthday is coming up this Sunday and if I can't have a proper celebration, I might as well fuse to the couch.
I will be turning 39. Holy shit. I know, I can't believe I've made it this far either, based off of the disturbing things I've ingested in my time on planet Earth.
One day, the mothership will return to gather me up and send me back to planet Zorvex in the outer regions of the boner galaxy Cialis. I will report back on my time here and talk about my extensive research on how to abuse a gallon of ranch dressing.
In the meantime, enjoy the following picture of how I will more or less spend my birthday.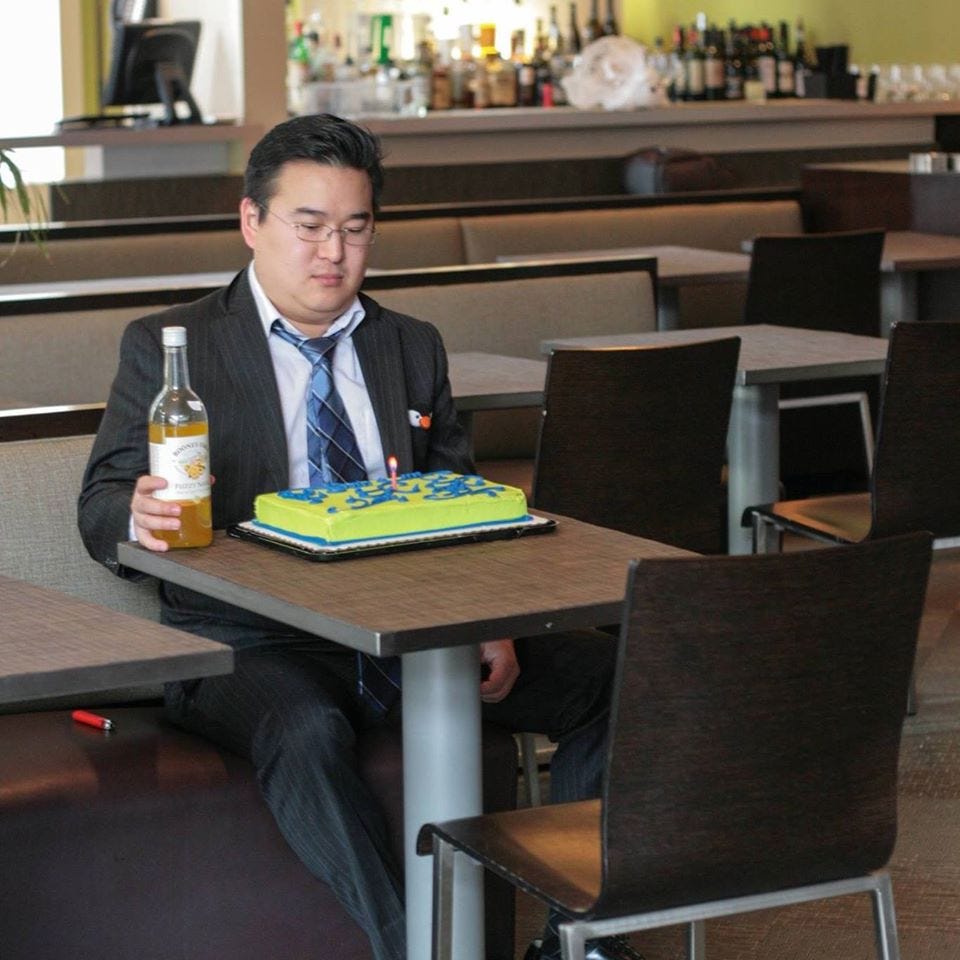 This photo of me has gone viral (an unfortunate term right now) on a lot of occasions. Some of you may have already seen it.
Might as well whip it back out just in time for my birthday!
Yes, that's really me. Just absorb the beauty of this picture. The empty restaurant. The Boone's Farm bottle in my hand. That giant cake. The lighter I used to light the lone candle. My suit. Harvey in my pocket.
But when it hit Reddit's Photoshop Battles, that's when the shit hit the fan. People were messaging me, emailing me, asking, "Dennis, is this you? It looks like you. Holy shit, you're famous." Famous.
Famous my ass.
Every now and then, the birthday photo still pops up in strange places (I'm #12). I was notified of the picture recirculating again just a few weeks ago.
I won't go through all of them (a lot of them involve race issues), but here is my favorite.
Not only am I the greatest food writer in all of history, I am also the pilot of the Starship Enterprise.
To be honest, I'm not sure how the image got out in the first place. It was my Facebook profile picture for a while because I thought it was hilarious. I don't recall sharing it anywhere else on social media so the mystery will never be solved.
When it first spread around, there was rampant speculation as to who I was. Strangers thought the photo was candid and wanted to give me a hug. But it was actually a test image for a scripted video series that never made it to fruition aside from the pilot. My friend Ryan and I worked on it for a very long time.
And watch his series, Fucked! In SPACE! while you're in quarantine.
Here's the pilot: Table For One at White Castle for Valentine's Day.
We wrote the script for a second video, but we (mostly me) never got our shit together. Man, making videos is hard!
If you've known me for long enough, you probably already know this story, but since I still think the whole thing is funny, I will never get tired of thinking about it. So that is the way I accidentally got pasted all over the Internet. The insanity lasted for a few weeks, then finally died down aside from the occasional flare-up.
Things have obviously changed a lot since then.
I know. A rollercoaster of a story that you probably didn't care much about to begin with, but it's a funny reminder of what my life used to be, and where I am now. Good times, good times.
So see you next week, clowns!
---
Share, if you please.
And there's this, to support future pieces:
Venmo: @dickholedannis
One last fun fact.
My mother and I share the same birthday.
I guess we won't be celebrating together any time soon, which is making me sad, but we all figured out how to video chat with each other (a true miracle) so we'll at least get to see each other face-to-face in our own way. The hugs will have to wait for later, but as long as we're safe, I don't mind waiting.